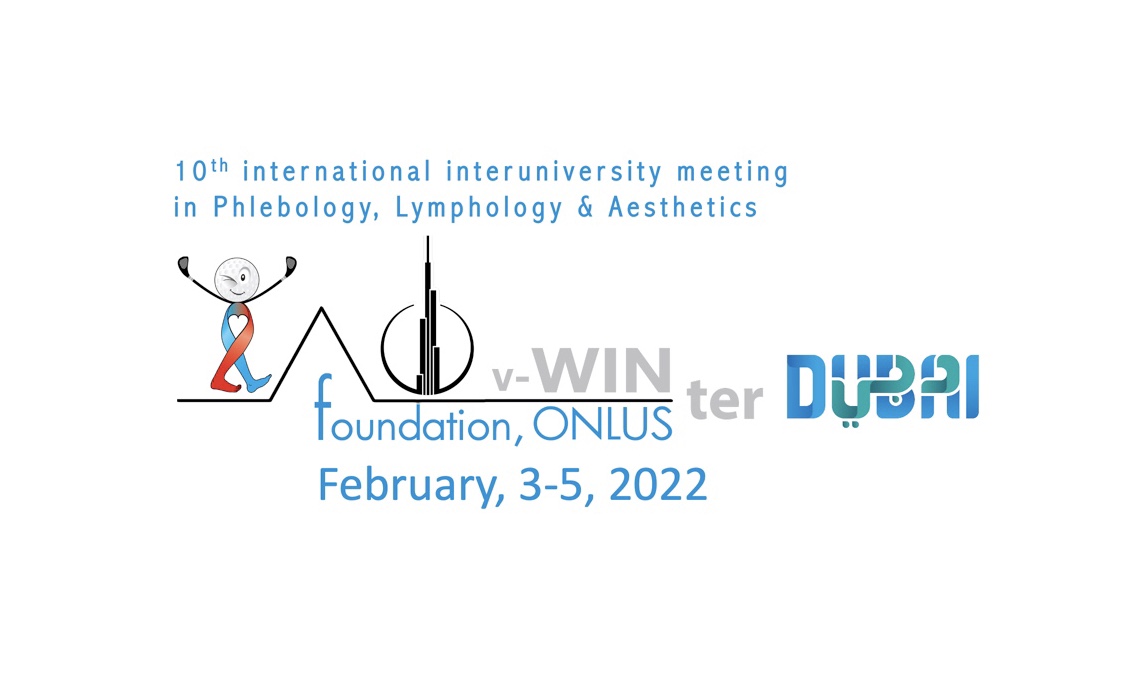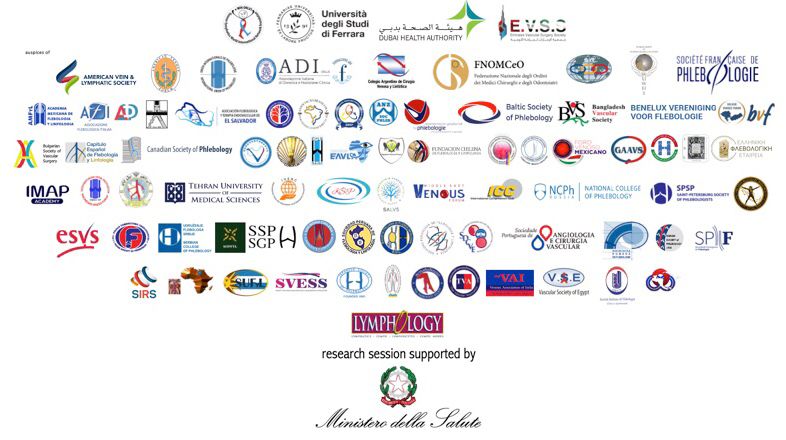 20 international CME credits
The meeting has been accredited by the European Accreditation Council for Continuing Medical Education(EACCME®)
with 20 European CME credits (ECMEC®s).
Each medical specialist should claim only those hours of credit that he/she actually spent in the educational activity
the v-WINter DUBAI meeting venue is the DUBAI BALLROOM,
2nd floor,
JW Marriott Marquis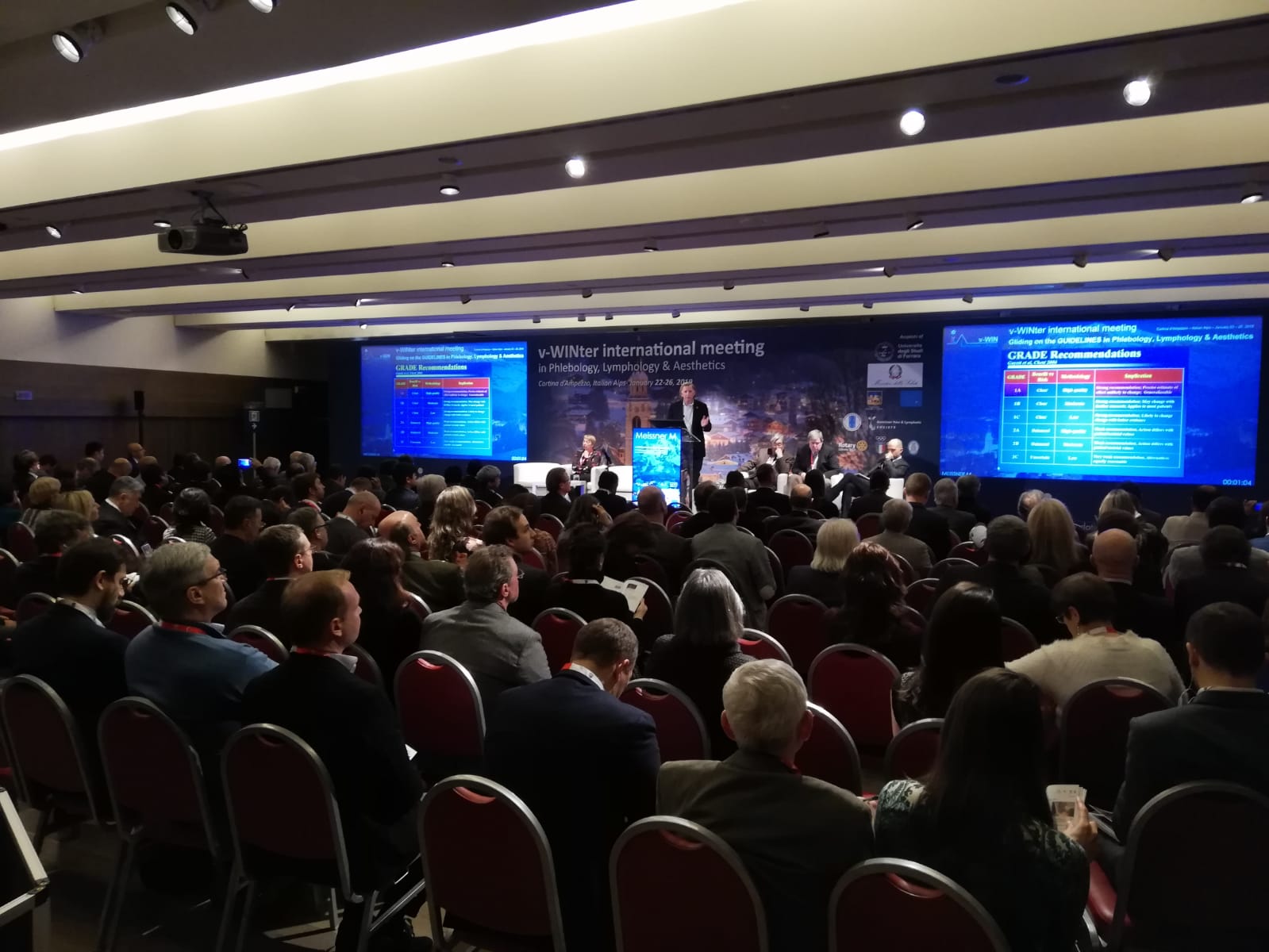 CONNECTING EXPERTS, INFORMING PATIENTS
The 2019 v-WINter meeting was dedicated to the analysis of phlebo-lymphology Global Guidelines similarities and controversies
PubMed.

On Feb 3-5, 2022 v-WINter international inter-university meeting will present presents the unique opportunity of co-working with the most important Health and Communication Institutions for delivering Fake News Free information to the venous and lymphatic patients.
Indeed, the not-for-profit initiative is hosted on purpose during the week of Health of the World EXPO in the stunning DUBAI, where more than 25 millions visitors are expected.

The congress Faculty includes the most renowned experts of the world, who will teamwork also with under 40 years old in the creation of a consensus document dedicated to proper evidence-based information to the patients.

The document will be linked to a webpage available in multiple languages, so to reach the largest number of people.
Together with this initiative, the most recent venous and lymphatic scientific news and innovations are present in the program, while sessions dedicated to "instructions for users" will provide to all the attendees the opportunity of a significant improvement in the disease management skills.
Looking forward for "CONNECTING the EXPERTS, to properly INFORMING the PATIENTS", we look forward for welcoming you with open arms during scientifically, socially and morally valuable
v-WINter days.
A recent scientific publication pointed out a frightening data: 40% of the top shared healthcare web links contained text classified as "FAKE NEWS". Even more frightening: these fake news have been shared more than 450.000 times (Waszak PM. et al.  The spread of medical fake news in social media –The pilot quantitative study . Health Pol Tech 2018;7(2):115-18).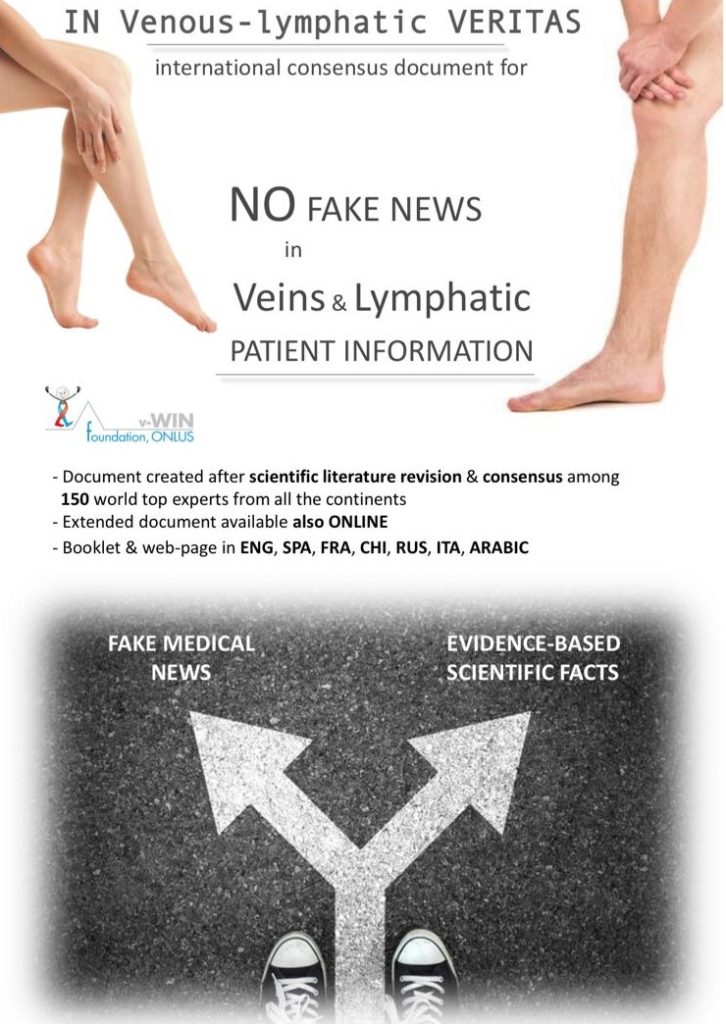 As always, the value of a meeting not only weighs in what it provides during the meeting days, rather in what remains afterwards. The v-WINter2022 meeting will bring together the most renowned Experts in the venous & lymphatic field, so to create a consensus document AGAINST Fake News in Phlebo-lymphology. v-WINter2022 will include  the 10th International Inter-university meeting, welcoming a significant amount of recent and valuable venous & lymphatic research, together with "instructions for users" and a nourished selection of free abstracts and a direct involvement of the youngest generations and of all the continents.
1. to create a consensus document dedicated to FAKE NEWS FREE information for venous-lymphatic patients.
2. to ignite a communication project in several languages addressed to
 proper patient information on venous-lymphatic diseases.
3. to deliver an insight on evidence-based data in phlebo-lymphology.
4. to provide the current phlebo-lymphology state of the art around the world, with special attention to countries with limited economic possibility.
5. to provide practical notions to be used in every day practice.
6. to actively involve to focus on Gender Equality in phlebo-lymphology.
7. to promote new research visibility.
8. to involve new generations.
9. to enhance public venous & lymphatic awareness.
10. to promote a moral & productive teamwork between industries and scientific organizations for phlebo-lymphology advancement and better patient-care.

1. Pre/peri/post meeting teamwork among world leading experts for the creation of a consensus document on FAKE NEWS FREE patient information.
2. Teamwork with big communication channels (EXPO Dubai, Universities, Scientific Societies, Health & Sport Institutions, Rotary, dedicated Media etc) for a dedicated campaign in different languages, including arabic.
3. World renowned faculty of experts.
4. Sessions involving scientific societies from all around the world, with special attention to countries with limited economic opportunities.
5. "Instructions for users" sessions & dedicated hands on live educational experiences.
6. Sessions & initiatives dedicated to Gender Equality.
7. Wide room in the scientific program for free abstracts presentation.
8. Direct involvement of under 40s in the scientific program & in the consensus document drafting.
9. Sport, social & cultural activities promoting public venous & lymphatic awareness.
10. Round tables among Industries and Scientific Organizations focused on moral and productive Phlebo-lymphology advancement.
The v-WINter days meeting has been designed in accordance with the accreditation requirements and policies of the Continuing Medical Education

SCIENTIFIC SOCIETIES DELEGATIONS
DUBAI HEALTH AUTHORITY
INTERNATIONAL SOCIETY OF LYMPHOLOGY (global)
INTERNATIONAL UNION OF ANGIOLOGY (global)
WORLD UNION OF WOUND HEALING SOCIETIES (global)
ITALIAN ASSOCIATION OF DIETETICS & CLINICAL NUTRITION (ITALY)
Academia Mexicana de Flebologia y Linfologia  (MEXICO)
Airlangga Universitas (INDONESIA)
American Vein & Lymphatic Society (USA)
American Venous Forum (USA)
Asian Venous Forum (ASIA)
Asociacion Colombiana de Cirurgia Vascular y Angiologia (COLOMBIA)
Asociciación de Cirurjanos Vasculare Perifericos de Costa Rica (COSTA RICA)
Associacão Brasileira de Flebologia e Linfologia (BRAZIL)
Associacion Flebologica y Terapia Endovascular de El Salvador (EL SALVADOR)
Association of Vascular Surgeons, Phlebologists, Angiologists of Ukraine (UKRAINE)
Austrian Society of Phlebology, Angiology, Dermatology (AUSTRIA)
Balkan Venous Forum (BALKANS)
Baltic Society of Phlebology (LATVIA)
Bangladesch Vascular Society (BANGLADESH)
Benelux Association of Phlebology (BENELUX)
Bulgarian Society of Vascular Surgery (BULGARY)
Canadian Society of Phlebology (CANADA)
Capìtulo Espanol de Flebología y Linfologia  (SPAIN)
Chile Foundation of Phlebology & Lymphology (CHILE)
Colegio Argentino de Cirurgía Venosa y Linfática (ARGENTINA)
Colegio de Medicos Cirujanos J. Raymond Tournay A.C. (MEXICO)
Comunidad Cientifica Boliviana de Flebologia y Linfologia (BOLIVIA)
Czech Society of Phlebology (CZECH REPUBLIC)
Egypt Africa Venous Lymphatic Association (EGYPT)
Egyptian Venous Forum (EGYPT)
Foro Venoso Mexicano (MEXICO)
Georgian Association of Angiology and Vascular Surgery (GEORGIA)
Hellenic Phleboogical Society (GREECE)
Hungarian Venous Forum (HUNGARY)
Indonesia Venous Forum (INDONESIA)
International Compression Club (GLOBAL)
International Vascular Endovascular Research Consortium  (GLOBAL)
Italian Association of Phlebology (ITALY)
Italian Chapter of the International Society of Lymphology (ITALY)
Italian Society of Clinical and Experimental Phlebology (ITALY)
Italian Society of Phlebo-Lymphology (ITALY)
Japanese Society of Phlebology  (JAPAN)
Kazakh Society of Phlebology (KAZAKHSTAN)
Latin America Venous Forum (LATIN AMERICA)
Middle East Venous Forum (UNITED ARAB EMIRATES)
National College of Phlebology Russia (RUSSIA)
Near East North Africa venous-lymphatic forum (NEAR EAST-NORTH AFRICA)
Polish Society of Phlebology (POLAND)
Romanian Society of Phlebology (ROMANIA)
Russian Phlebological Association (RUSSIA)
Saint Petersbourg Venous Forum (RUSSIA)
Serbian College of Phlebology (SERBIA)
Sociedad de Cirurgia Vascular y Endovascular de Centroamérica y Caribe (CENTRAL AMERICA)
Sociedad Dominicana de Cirurgia Vascular y Endovascular (DOMINICAN REPUBLIC)
Sociedad Mexicana de Angiologia, Cirurgia Vascular y Endovascular (MEXICO)
Sociedad Panamericana de Flebologia y Linfologia (PANAMERICA)
Sociedad Paraguaya de Flebologia y Linfologia (PARAGUAY)
Sociedad Peruana de Flebologia y Linfologia (PERÙ)
Sociedade Portugesa de Angiologia e Cirurgia Vascular (PORTUGAL)
Society for Vascular & Endovascular Surgeons of Singapore (SINGAPORE)
South Africa Lymphatic & Venous Society (SOUTH AFRICA)
Swiss Society of Phlebology (SWITZERLAND)
Thai Society of Phlebology (THAILAND)
Thai Vascular Association (THAILAND)
Turkish Society of Phlebology (TURKEY)
Uruguay Society of Phlebology & Lymphology (URUGUAY)
Venous Association of India (INDIA)
Vascular Surgery Society of Egypt (EGYPT)