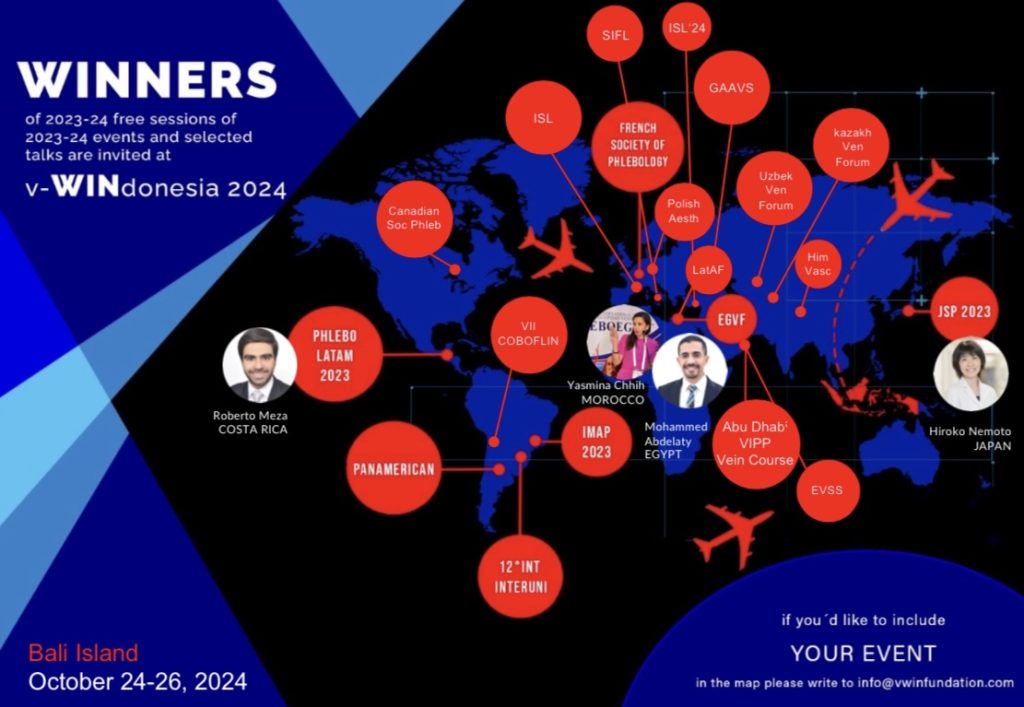 v-WINdonesia projoect aims to move
the global vein-lymphatic community «FORWARD TOGETHER»
Among the many initiatives, the free registration and accommodation for the winners of free abstracts / evidence based contributions selections from
joint meetings around the world.
Whoever will be standing up from the audience of the 2023-2024 v-WINdonesia Selection
meeting, stating something interesting, will be eligible for becoming the recipient of the award.
Therefore, v-WINdonesia is a TALENT SCOUTING event.
But v-WINdonesia is even more, as it will include:
1.Presentation of the largest venous-lymphatic Registry project
2.Insights into Guidelines, Consensus and Appropriateness documents.
3.An educational and humanitarian v-HELP mission (October 22-23, limited seats available)
4.Networking opportunities with KOLs and Scientific Societies delegates from all around the world.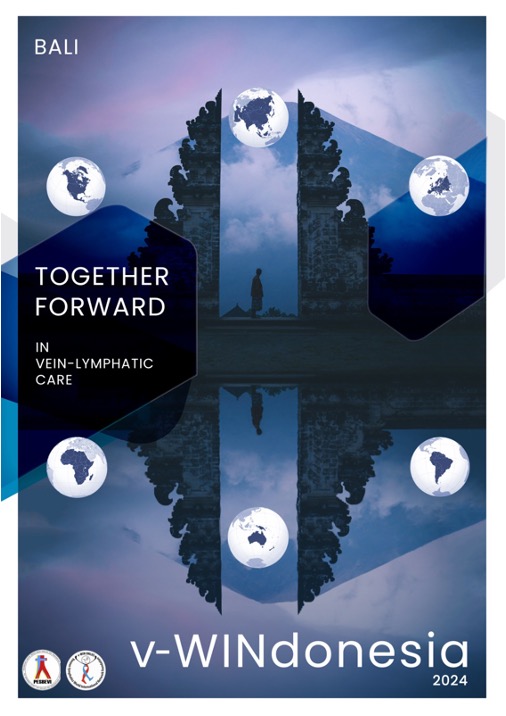 Already joint meetings are:

Japanese Society of Phlebology
July 6-7, 2023 – Matsuyama, JAPAN
International Society of Lymphology World Congress
Sept 11-15, Genoa, ITALY
Uzbekistan Venous Forum
October 12-14, 2023 – Tashkent, UZBEKISTAN
Italian Society of Clinical & Experimental Phlebology
October 20-22, 2023 – Rome, ITALY
X International Congress on Aesthetic Phlebology
October 20-22, 2023 – Poznan, POLAND
LATAF Africa
November 4, 2023 – Cairo, EGYPT
VIPP Course
November 24-25, 2023 – Abu Dhabi, UAE
IMAP 2023
December 1-3, 2023 – Sao Paulo, BRAZIL
7th Coboflin Congress
December 8-9, 2023 – Santa Cruz, BOLIVIA
French Society of Phlebology
Dec 14-15,2023 Paris, FRANCE
Italian Society of Phlebo-Lymphology
Dec 14-16, 2023 Salerno, ITALY
12th International Inter-university meeting
April 25-27, 2024 – Sao Luis, ARGENTINA
Emirates Vascular Surgery Society
May 3-5, 2024 – Dubai, UAE
Himalaya Vascular Surgery Congress
Jan 18-20, 2024 – Katmandu, NEPAL
Canadian Society of Phlebology
May 3-4, 2024 – Montreal, CANADA
Georgia Association of Angiologists and Vascular Surgeons meeting
May 16-18, 2024 -Tbilisi, GEORGIA
Kazakhstan Venous Forum
May 24-24, 2024 – Almaty, KAZAKHSTAN
European Society of Lymphology
June 6-8, 2024 Istanbul, TURKEY
FleboPANAM
June 20-22, 2024 – Assuncion, PARAGUAY
v-WINdonesia
October 24-26, 2024 – Bali Island, INDONESIA
in case you'd like to add your event in the v-WINdonesia list, feel free to write to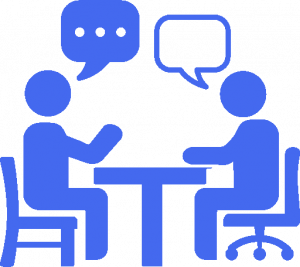 pre-congress v-WINdonesia interviews
This session will include video-interviews
 with KOLs and Major Supporters of the project.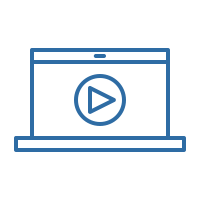 All the meeting will be available on demand by means of codes provided for free by the supporting companies.
This area will include interactive supporters logo
PCO: SKY hub
Serkan Demirtas
t: +6281805655050